APRIL 20, 2023 - MAY 27, 2023
OPENING RECEPTION WITH THE ARTIST
APRIL 20TH, 2023 | 6-8PM OPEN TO PUBLIC
THREE TWO ONE CANAL STREET
NEW YORK, NY 10013
INFO@RWGUILDGALLERYNY.COM
646 693 0279
PRESS RELEASE
Installation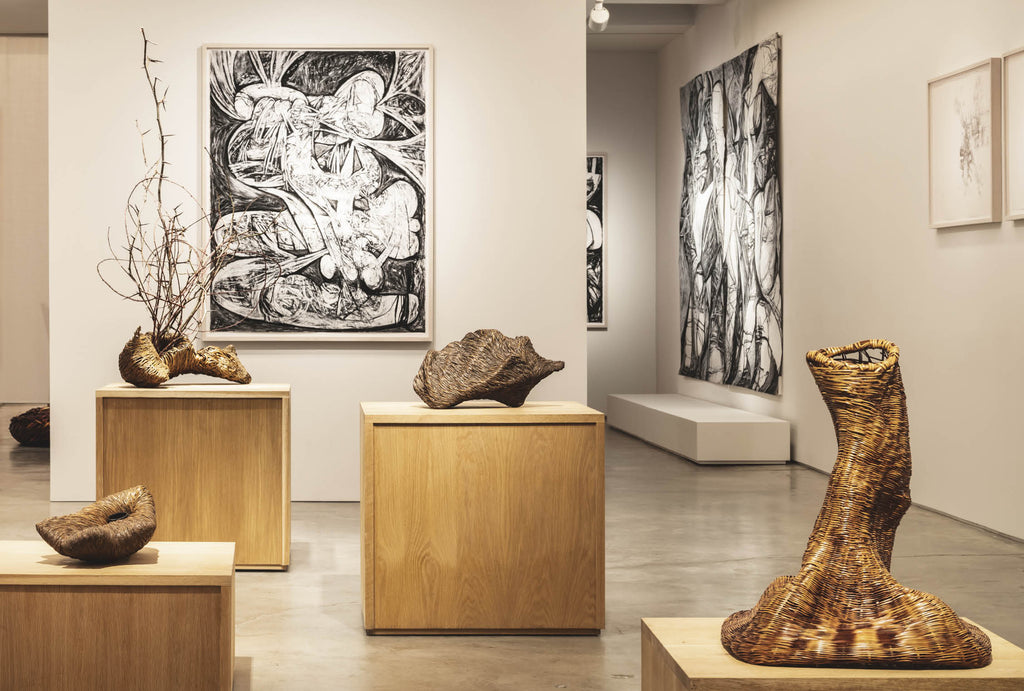 INSTALLATION VIEW, UNSTILL WORLD, TARA GEER IN CONVERSATION WITH JAPANESE MASTER SCULPTORS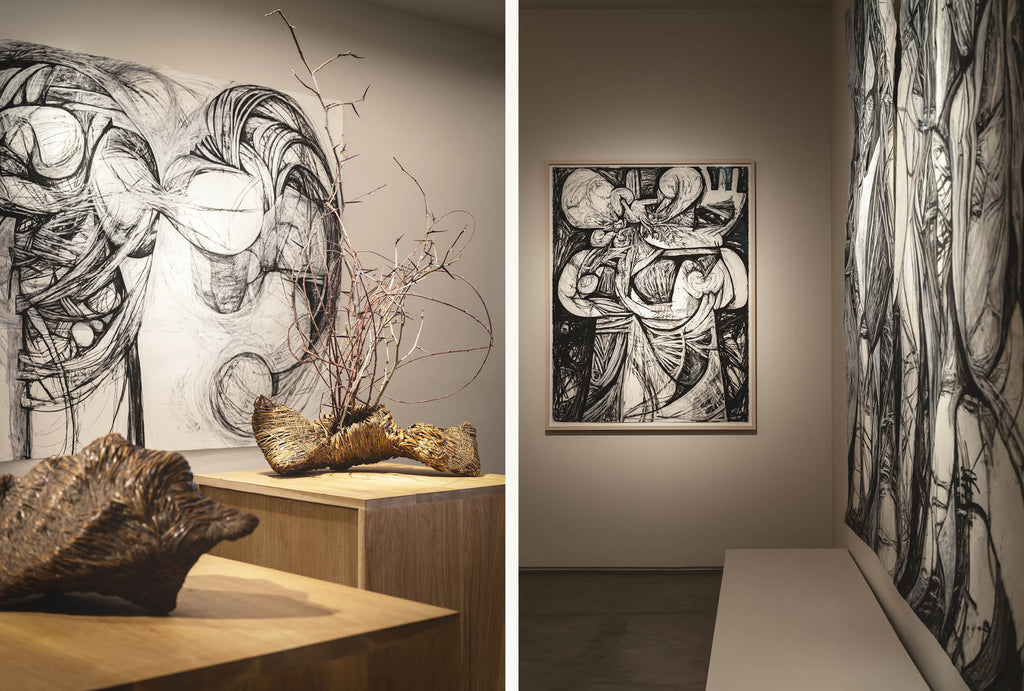 INSTALLATION VIEW, UNSTILL WORLD, TARA GEER IN CONVERSATION WITH JAPANESE MASTER SCULPTORS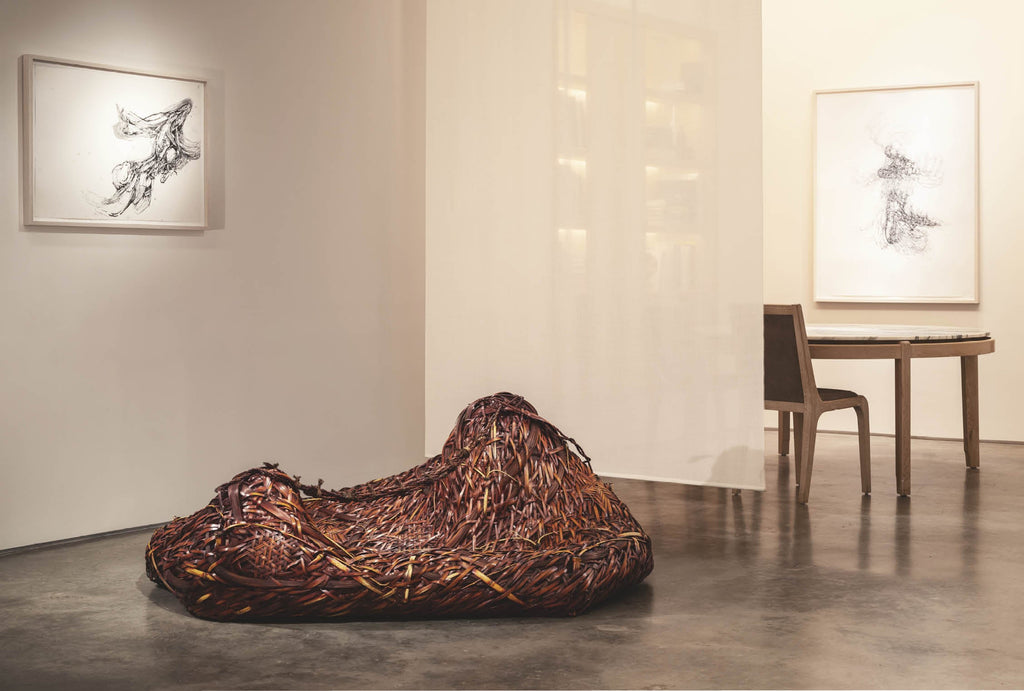 INSTALLATION VIEW, UNSTILL WORLD, TARA GEER IN CONVERSATION WITH JAPANESE MASTER SCULPTORS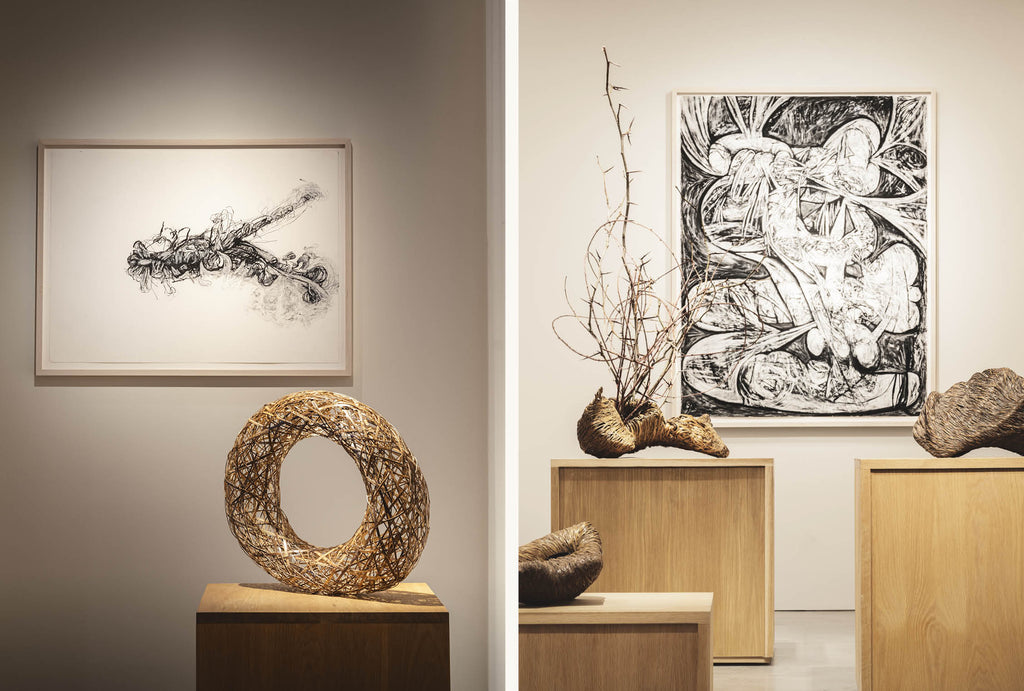 INSTALLATION VIEW, UNSTILL WORLD, TARA GEER IN CONVERSATION WITH JAPANESE MASTER SCULPTORS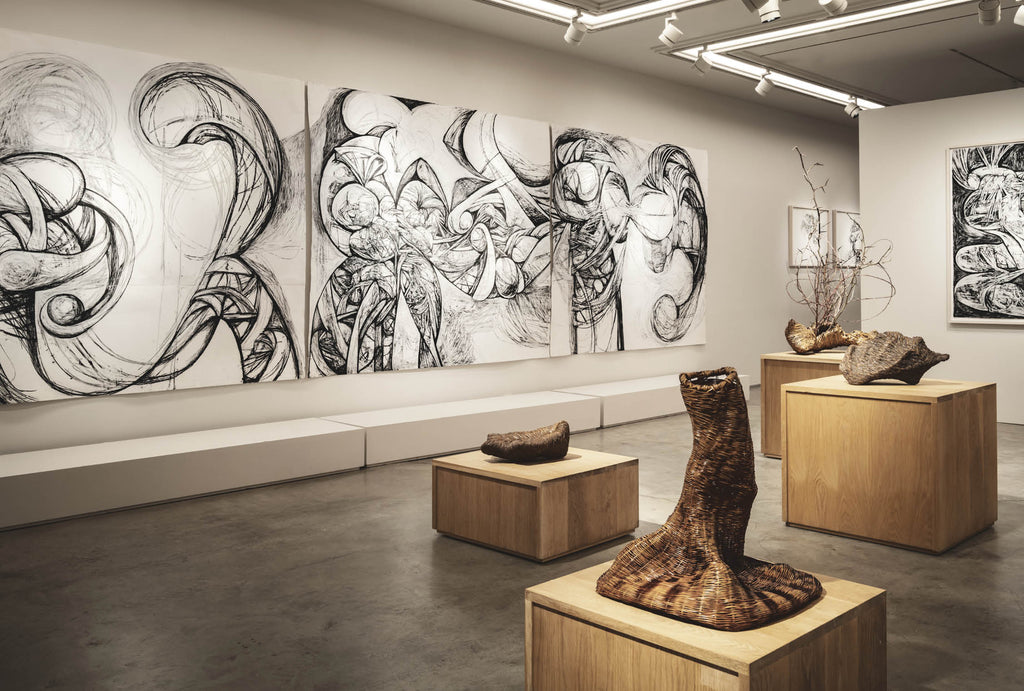 INSTALLATION VIEW, UNSTILL WORLD, TARA GEER IN CONVERSATION WITH JAPANESE MASTER SCULPTORS
About the Show
Unstill World, an exhibition spotlighting new and recent drawings by New York-based artist Tara Geer in conversation with sculptural pieces by four Japanese fiber artists, including Nagakura Kenichi, Monden Yuichi, Yufu Shohaku, and Tanabe Chikuunsai IV. The interplay of line and form between these artists' works from Geer's unraveling drawings to the twisting and binding linework present in the sculptural fiber works reveal a power not typically associated with these practices. These artists turn to simple,ubiquitous materials from charcoal to bamboo to create something beautiful that brims with new life, in turn creating a new dialogue around these often underrecognized mediums. As E. B. White wrote, "Before the seed there comes the thought of bloom.
Geer's idea for the work in this show emerged upon her return to New York City after the pandemic when she encountered what she calls a strange blooming—something that grows from nothing, from sheer will. This unsettling humming through the city captivated Geer, who began trying to reflect these feelings onto her drawings. As Geer states, "Drawing teaches me to look at these things that don't make sense, to linger on those things that I don't have words for...to wait to just feel something before I jump to recognize it." The strange blooming started at the bottom of the page, growing from that no ground. Then, by spring, they started lifting up from the bottom of the page, unfurling like milkweed pods or something propagating in the air. Geer's works in this exhibition challenge our preconceived notions of the recognizable and what it means to really look at something.
"DRAWING TEACHES ME TO LOOK AT THESE THINGS THAT DON'T MAKE SENSE, TO LINGER ON THOSE THINGS THAT I DON'T HAVE WORDS FOR...TO WAIT TO JUST FEEL SOMETHING BEFORE I JUMP TO RECOGNIZE IT.
– TARA GEER
IN CONVERSATION WITH JAPANESE MASTER SCULPTORS
Like Geer, who creates three-dimensional drawings using charcoal and pencil on paper, the Japanese fiber artists in this exhibition use often discarded or dead natural materials, consisting primarily of bamboo, to make intricate works that honor an ancient craft that has been practiced for thousands of years. Using a range of bamboo from tiger to madake and shinodake, these artists' work demonstrates the expressive qualities of this unique and demanding material of which mastery is a lifelong process. When viewed together, Geer and these artists' works are harbingers of spring, reminding us of the perseverance and awe of nature's ever-changing life cycle.