SEPT 13, 2023 - Oct 21, 2023
OPENING RECEPTION WITH THE ARTIST
SEPT 13, 2023 | 6-8PM
THREE TWO ONE CANAL STREET
NEW YORK, NY 10013
INFO@RWGUILDGALLERYNY.COM
646 693 0279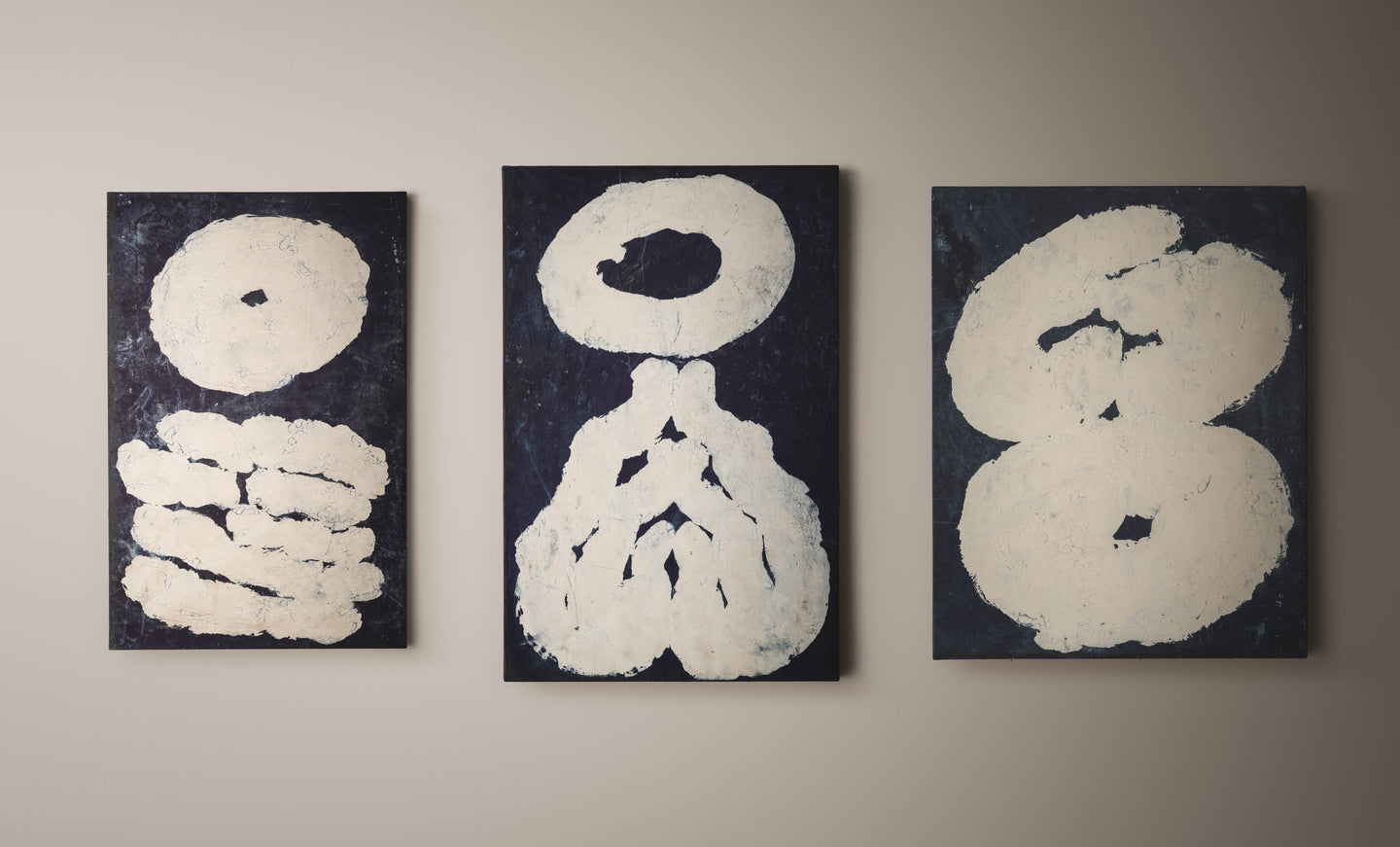 About the Show
GUILD GALLERY IS PLEASED TO PRESENT THE FIRST SOLO U.S. EXHIBITION OF SYOTATSU (B. 1982, WAKAYAMA, JAPAN), A JAPANESE ARTIST KNOWN FOR DRAWINGS AND PAINTINGS THAT ENGAGE WITH THE NATURAL WORLD THROUGH BOTH SUBJECT AND MEDIUM—DEPICTING SCENES AND PHENOMENA OF NATURE THAT HOVER BETWEEN FIGURATION AND ABSTRACTION, MADE USING A DISTINCTIVE TECHNIQUE THAT MIXES IN LOCAL SOIL INTO THE PAINT BEFORE APPLICATION.
The exhibition presents a series of 30 new works that were inspired by a return to Syotatsu's hometown of Wakayama, where the climate, topography, and spirituality of the Japanese countryside inspired a radical new direction in his craft. Titled Ubusuna, which means birthplace, the exhibition is on view at Guild Gallery in New York from September 13 through October 21, 2023. Originally trained in portraiture, which he began drawing on the streets of Kyoto as a teenager, Syotatsu has spent the past two decades honing his singular method and expressive style to depict the natural world. Using the soil found just outside his home in the Wakayama mountains and local materials including indigo, sumi (charcoal), and Japanese ink, his subjects exude a spiritual essence, influenced by ancient forms, tools, and traditional arts, while both existing in and drawing inspiration from the environment. His works often incorporate items from his natural environment, including found objects and reclaimed lumber, and are executed on surfaces including Japanese paper, vintage fabric, and wood. Composed of natural elements, they also depict imaginative scenes of nature: birds crowing toward rings of light; moons bursting within torsos and spangling across the canvas; swirling figures embracing in a spray of starlight; and hands drawn together in a blessing and raised up toward the sun.
"I ALWAYS LOVED THE TEXTURE OF THE SOIL... I FELT THE SOUL, SOME SORT OF PROTECTOR OR LUCKY CHARM FROM THE LAND WHEN I STARTED PAINTING WITH IT."
- SYOTATSU
A palette of dark and light in high contrast is consistent throughout the works, which Syotatsu attributes to the observation of shadows and the patterns in which day and night flow throughout space, as though "the sun and moon are in conversation with each other." This distinctive combination creates a textured surface and matte quality while infusing his work with the energy of the land around him: the light, the sounds of animals, wind and rain, and the hum of everyday life. Syotatsu begins creating without a specific outcome in mind, but rather looks to the medium to reveal natural shapes over time, then connects those forms with the otherworldly visions he encounters in his dreams and in his daily exchanges with the land, binding tangible and spiritual senses into a physical work. The result is a manifestation of Syotatsu's own relationship to nature—one of wonder, appreciation and respect expressed through his subjects—abstracted to enlarge their ethereal energy and capacity for emotional transference.
INTERVIEW WITH THE ARTIST
By Mackenzie Wagoner
To view a Syotatsu painting is to see and feel the mountain on which the artist lives and works in Wakayama, Japan. The land is as much his material as it is his subject. Since relocating to the pastoral
southern region after 18 years in Kyoto, Syotatsu's oeuvre shifted radically from portraits of people to evocations of place. In his work—an intersection of earthwork, painting, and sculpture—the
figurative meets the abstract, the biographical is shaped by myth, and all of it is produced through his daily commune with nature. He says this on a call on a recent summer evening, after a day spent
harvesting flour. Tomorrow, the soil surrounding his studio will be brought inside, soaked, and spread across a canvas or reclaimed wood to reveal imagery. Perhaps it may be a recent sighting of the moon and sun sharing the sky at once, spirits of land that came to him in a dream, or the way light fell on his hand on a particular evening. Over the course of an hour, Syotatsu spoke here about the beauty and function of his palette of soil, lime, charcoal, ink, and indigo and his process of letting the soil speak in the paintings, all the while taking us on a mental tour of Wakayama:
Mackenzie Wagoner: You started as a portrait artist, drawing every day on the streets of Kyoto. How did you shift from portraits to what you're making now?
Syotatsu: I was determined to do the portraits for my entire life. I was very productive, building energy by making tons of drawings. The biggest turning point came about four years ago, just before my wife and I decided to move where we are right now in the mountain in Wakayama. I had a dream about the gods of the mountain—the area where we were moving. They were a boar and a mountain goat and they were fighting sumo. When I told my friend about the dream, he strongly suggested I should paint it. I had never done this kind of painting before, but it came very naturally—and then it just unplugged a new kind of creativity.
MW: And now that you live there, what inspiration do you draw from living on the mountain? How has it shaped your work?
S: Here, from morning until we sleep, there's always a connection to nature. Everything shapes my work: the landscape, all the suns, the animal voices, wind, soil, rain. A big part of our lifestyle means the ordinary everyday things we have to do—conveniences that we might have been able to buy in the city—require us to be in nature: cutting the grass, moving the soil, preparing wood to burn, cleaning wood from a storm. To keep a normal lifestyle in the mountain is completely different than in Kyoto. Here, there's a connection to the soil.
MW: Soil is as much of a subject as it is a tool for painting and sculpture in your pieces. When did you start bringing soil into your paintings?
S: Growing up in the countryside, I always loved the texture of the soil. When I decided to draw the dream painting, the soil was available and came to my mind. In addition to the texture, I felt the soul, some sort of protector or lucky charm from the land when I started painting with it.
MW: Where do you source the soil?
S: Usually, I use the soil in front of my studio, which is reddish brown. Once in a while, when I want a specific color like black or white, I get it from somewhere else. For example, black soil is found close to and on the beach in the west of Japan. And for white soil, I buy Lime.
MW: Does your work always begin with a dream? What is your process?
S: I paint with the soil first, and in it I find a crack or some accidental pattern that I can connect to an experience in my life. If it looks like a moon, I'll remember last week's full moon, and how it hugged the tree. It becomes both the inspiration and the subject. Or maybe I'll remember a bird I saw. I paint the soil first, see the pattern, make the connection, and allow the piece to evolve.
MW: Talk to me about the spectrum of subject matter that appears in the paintings: flowers, people embracing, suns.
S: It's what I experience, like the sun and moon, the things beyond my power in nature that I appreciate, fear, and respect. That's what I express in the subjects. In the series of four, Starry Night, people look up at the light of the full moon. It's purely an experience that I never had in the big city. In the mountain, I realized the full moon's brightness and strength. The world became blue, the light and shadows were so strong. For Sun and Moon, where we are in Wakayama at the top of the summit, there's always big open sky. When we look up, we realized we can see the sun and moon at the same time. First, my wife made a poem about the sun and moon talking to each other. I also wanted to paint the subject.
MW: Do you often collaborate with your wife?
S: Yes, not every work, but very often we collaborate—not by making things together, but by living and experiencing things together, we influence each other. She is also artist, she makes pottery, sings, and makes music. She's very creative.
MW: Your work is a balance of abstract and figurative, with many of the more abstract works created in indigo and ink, and the more figurative works in charcoal (sumi) and soot. Can you talk to me about the connection?
S: I start all of my work with soil, and when I want to paint the core part of the subject, the abstraction, indigo [and ink] express it best. Sumi and soot are used to get detail. From studying figuration, I also learned to simplify the subject to its core to express what I want to express.
MW: You studied art for years. Do you look at any other artists' work or movements for inspiration?
S: I don't have one artist or a single source of influence. I'm attracted to Modigliani's work and another Japanese painter who is not necessarily world-known, Suma Maruki. She painted life. I'm influenced by ancient tools and archeological findings, but mostly I'm influenced by my wife and friends and their work and music.