RICK HINTZE
BORN OF THE SOIL
Installation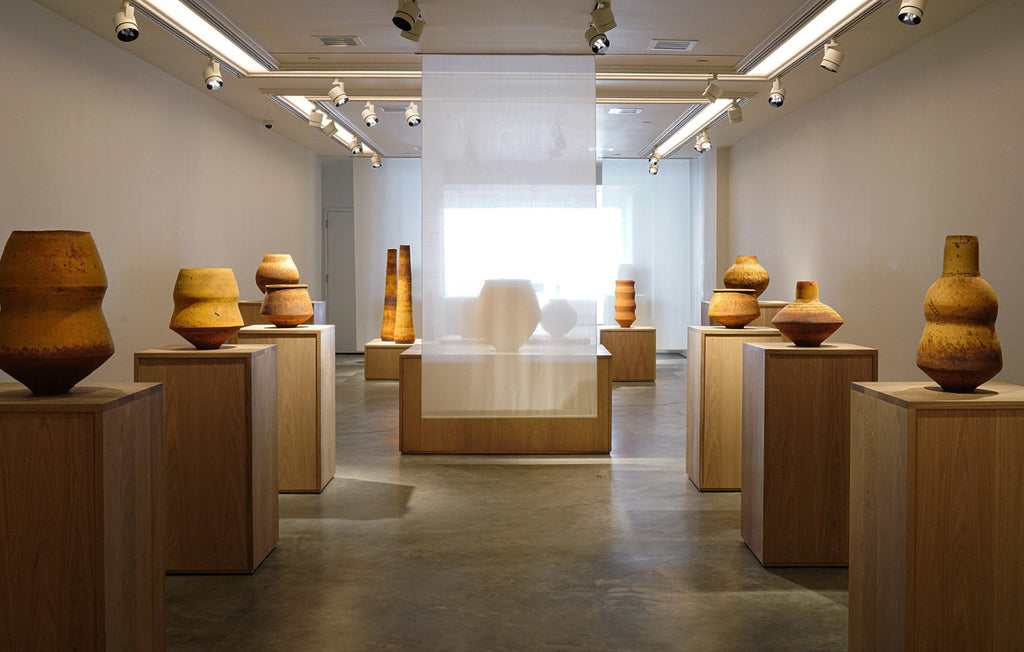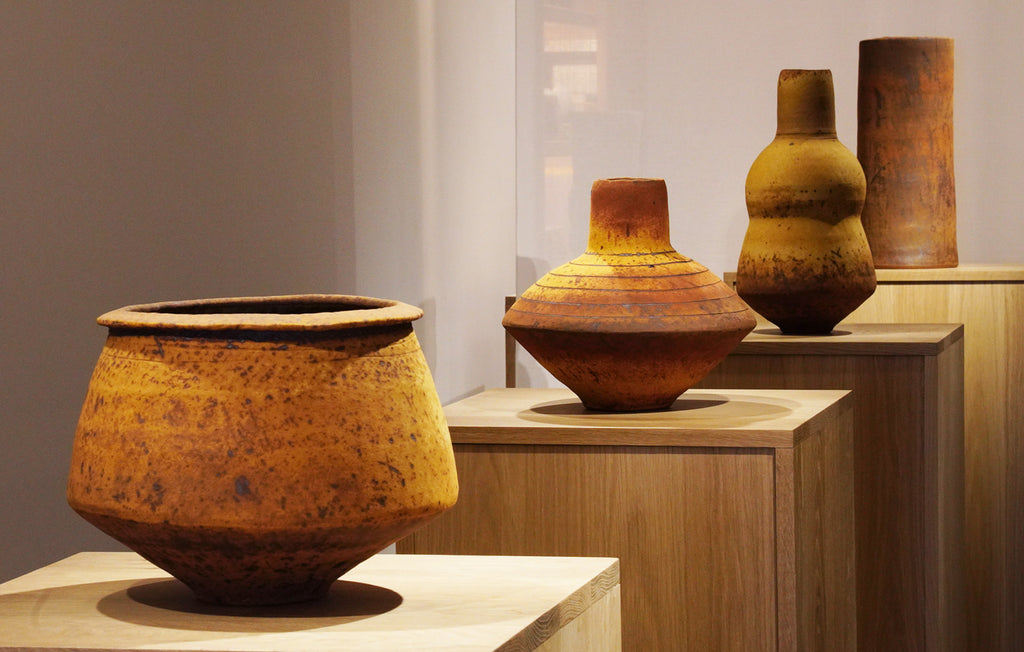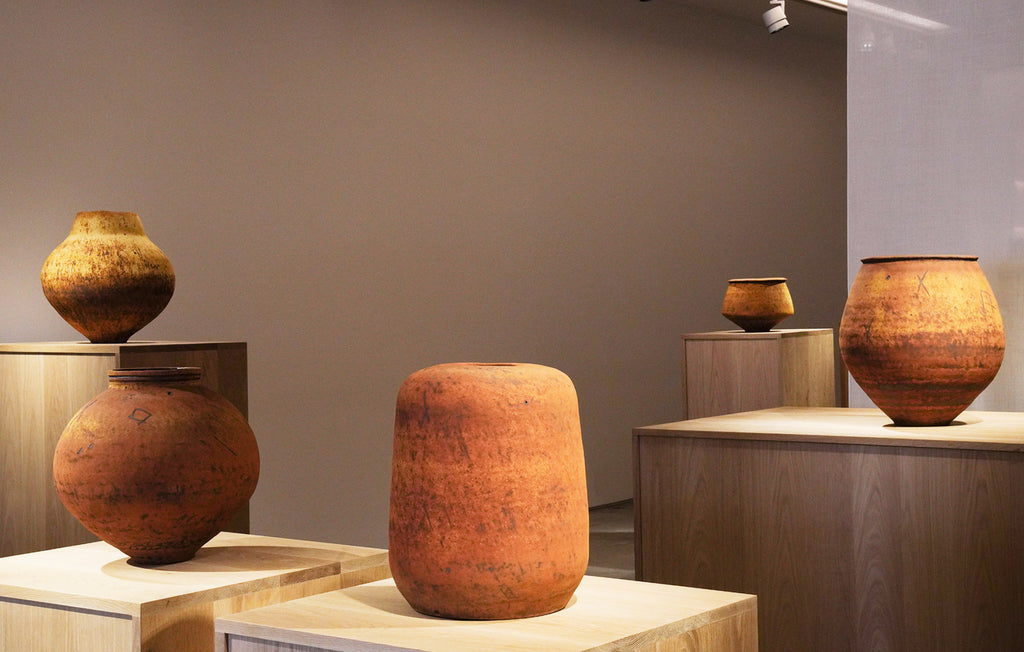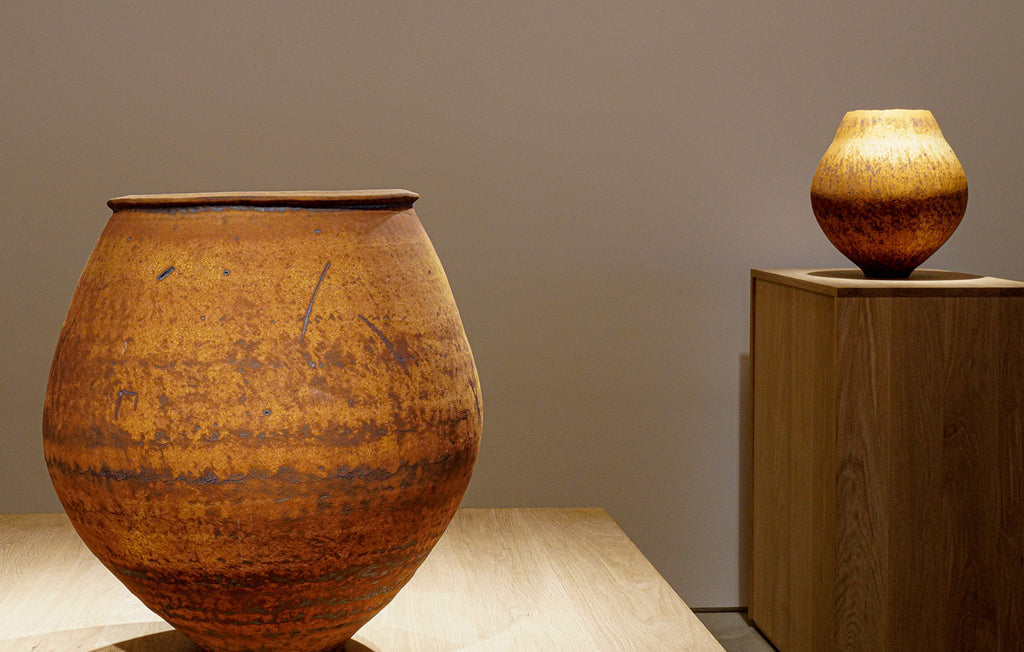 About the Show
Words by Elizabeth St. George
Ancient in their gesture, Rick Hintze's pots have seemly emerged from the earth. Carefully coiled and shaped, they are made of the humblest of materials, clay, red-iron oxide, and wood ash. Their surfaces are marked with his hand's focused, deliberate movement and their textures born from spontaneous interactions with the natural elements, earth and air, fire and water.
Proud in their address, Hintze describes his work as having, "stature, posture, and presence." Regardless of their shape or size, empty or full, the pots have a monumentality to them that does not intimidate, but rather has the familiarity of a cooking pot for the hearth. He imagines his pots as having an activating energy, a kinetic space around them as the viewer shifts their gaze and body's position. The sensation is of a modest quality, inviting contemplation and reverence, as well as a strong desire to touch and connect with millennia-old traditions.
With a desire to allow materials to express their inherent characteristics, Hintze is an artist guided by process. He works slowly. Coiling each stratum thoughtfully, he begins with a vision for a work, but embraces the pure joy of making. He often does not remember what guided a particular action, confident in his absorption of knowledge and craft.
"POTS HAVE A BELLY, A FOOT, A NECK, THEY HAVE A SORT OF PRESENCE. I WOULD BE HAPPY IF I MADE SOMETHING WITH A PRESENCE."
– RICK HINTZE
Indeed, Hintze is part of a strong linage of Midwestern American potters. Some studied Japanese Mingei with the great Warren MacKenzie and pushed that philosophy. Others like Hintze's mentor, Henry Joe, art professor at Knox College, advocated a broader approach that encouraged surrendering to the material and process of creating. Hintze's practice is centered on this idea, as well as the history of art and ancient techniques and principles. While careful to separate function from context, from travels and looking at great collections in museums, Hintze has been stimulated by the work of Neolithic artists, as well as 20th century women African potters.
Immersed in ample craft tradition, Hintze's pots are not literal or archaeological of a particular culture or time. Rather, they respectfully exist on their own terms, inserting themselves into wisdoms and lore passed on from potter to potter for decades.