MIRJAM DE NIJS
LIVING STONE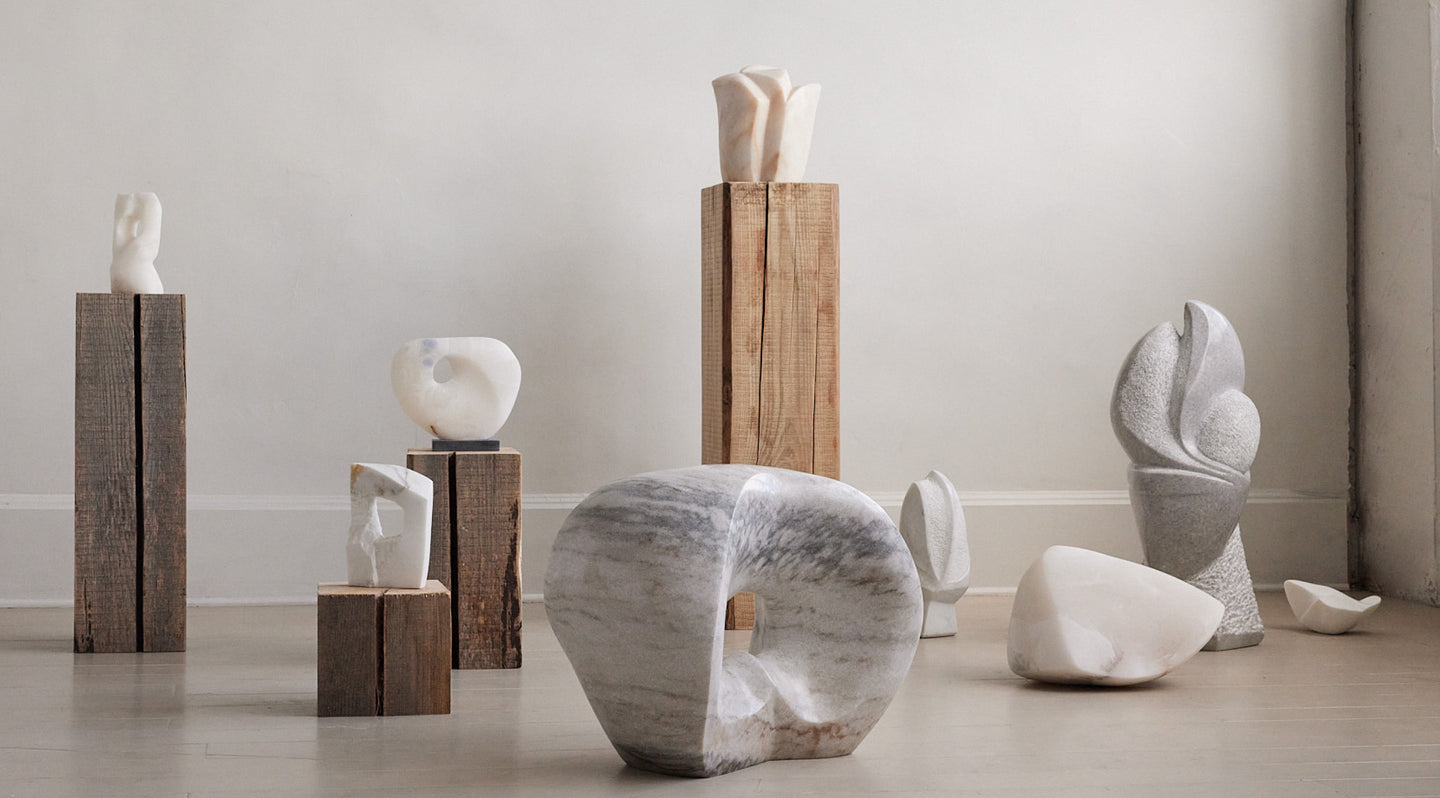 About the Show
Words by Elizabeth St. George
The sculptor Mirjam De Nijs finds form through "respect" for the stone.
Although there is an expected connection between the stone and the design, her approach is ever-changing. It is steered by the acts of exploration and discovery, making concrete a question, notion of shape, or moment perceived by the senses. She starts with a loose model in clay. Sometimes it is an idea that guides her selection of the stone, while at other times the type, color, hardness, and character of her material leads to the sculpture. The dialogue between de Nijs' imagination and medium is lively and physical, gentle and intimate. Her chisel generates a connection to her emotional life, her ears find the rhythm and nature of the stone, and her eyes guide her hand in space and movement. This unrestrained process intertwines the artist's life with her work, leaving her trace on its shapes and surfaces through the literal mark of her tools.
As an artist, de Nijs is an autodidact. She grew up loving the Dutch language and literature, as well as art history, and pursued these fields in her formal university studies. Later as a young mother, de Nijs took a sculpture class. First working in cultured stone, and then in natural stone, de Nijs embraced sculpture, as for her it was the creative medium that was most free in meaning and expression. From the beginning she worked in abstraction, believing nonfigurative sculptures were an emotional and surprising element to introduce into a cultured, realistic setting.
"MY FAVOURITE THEMES ARE MOVEMENT, THE IMPRESSIONS OF VOLUMES ALONE IN THEIR FULL EXISTENCE OR COMBINED WITH OTHER FORMS, DIVIDED BY DEFINED OR MORE SUBTLE LINES. MY DISTINCT HANDWRITING CAN BE FOUND IN EACH SCULPTURED STONE."
–MIRJAM DE NIJS
Indeed, nature in its purity stimulates de Nijs. She works outdoors in the natural light on a small island called Zeeburgereiland on the outskirts of Amsterdam. Her isolated surroundings cultivate a contemplative location to evolve her practice. De Nijs has produced objects in a variety of scales and more recently has made functional sculptures, including a chair. The pieces range from medium-sized works with the presence of a monument, to larger sculptures that can be placed outdoors, interrogating and suggesting a different perspective of the natural environment.
As her work shifts, de Nijs' investigation of stone remains constant. She describes the medium as, "containing an incredible world of immeasurable forces, processes, and myths…that represent mother earth." Each stone offers a history and familiarity from which new forms emerge again and again.
NATURE IN IT'S PURITY, THAT'S WHAT FASCINATES ME. I LOVE THE VOLUME, THE MOVEMENT, THE TEXTURE AND THE NATURAL QUALITY OF STONE.
In stone of all different kinds, I find unlimited possibilities to express my meaning. I prefer abstract language. My ultimate goal is a sculpture. It has an immense expression with a great sense of freedom.
With their strong and subtle presence, abstract sculptures are a surprising element in a realistic environment; a sublimized accent in a concrete world of tables, chairs, vases and living creatures.
For more than 30 years I have made sculptures of natural stone. I have studied Dutch language and literature, combined with art history and aesthetics. I love the freedom of investigation; the sculptures are the result of characterful research and endless experimentation. When I realize that the sculpture fits in a big trail of authentic forms, loose of history, culture and background, I am satisfied. Happy and free for my next endeavour.