JUL 31, 2023 - SEPT 2 2023
OPENING RECEPTION WITH THE ARTIST
JUL 31, 2023 | 6-8PM
ARTIST TALK
AUG 3, 2023 | 6-8pm
THREE TWO ONE CANAL STREET
NEW YORK, NY 10013
INFO@RWGUILDGALLERYNY.COM
646 693 0279
PRESS RELEASE
Installation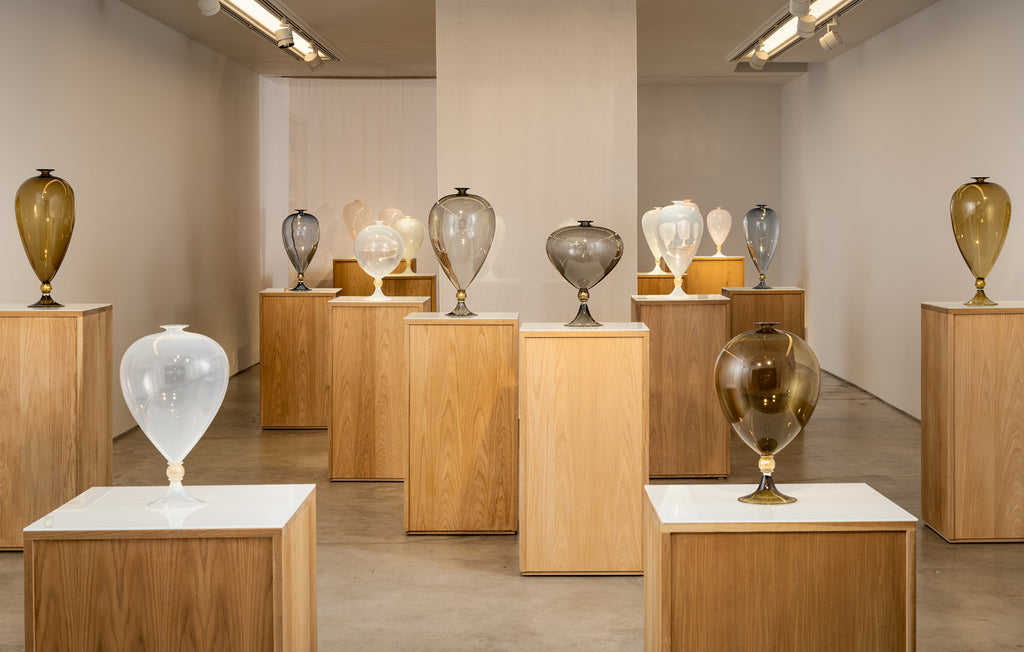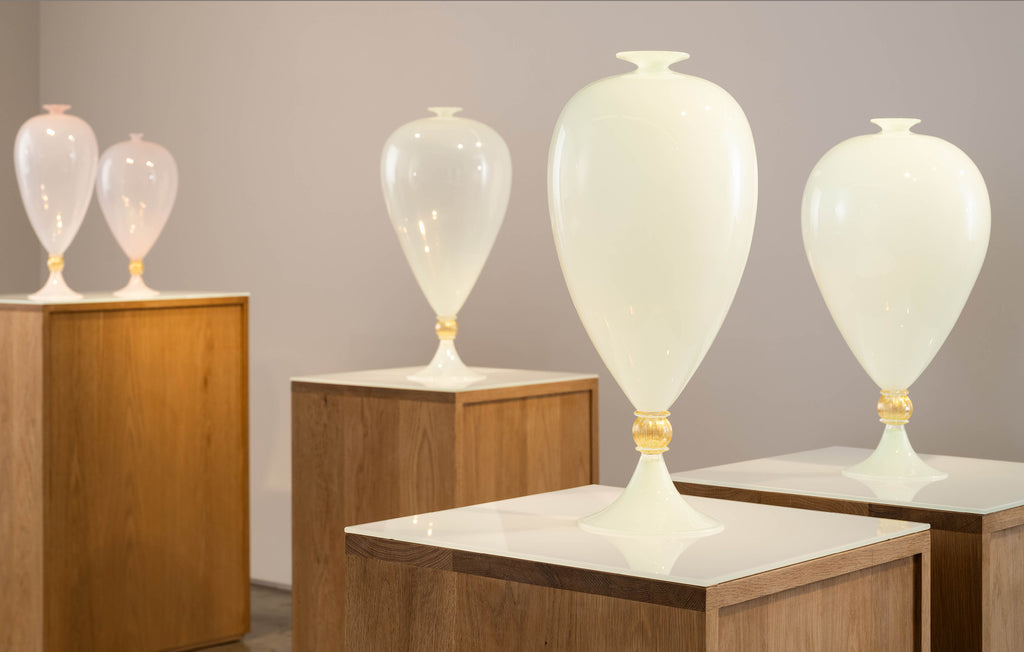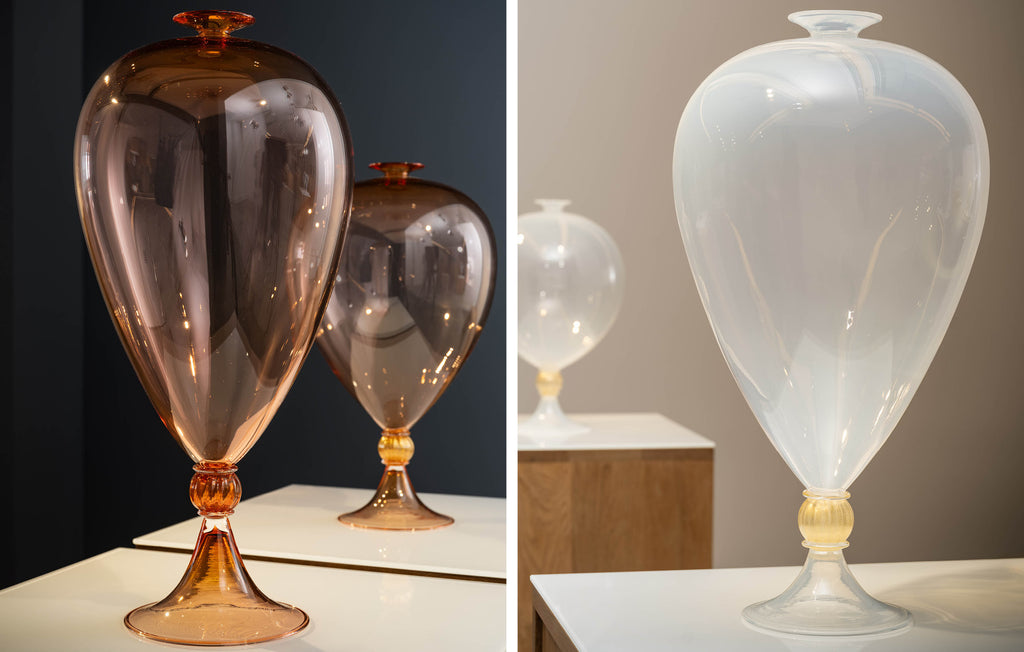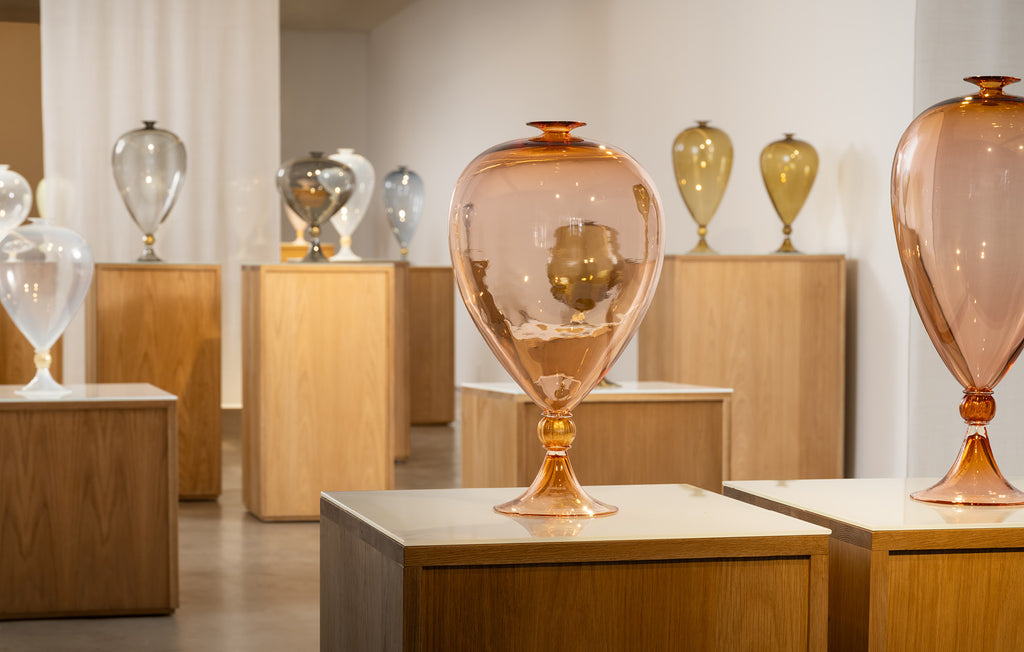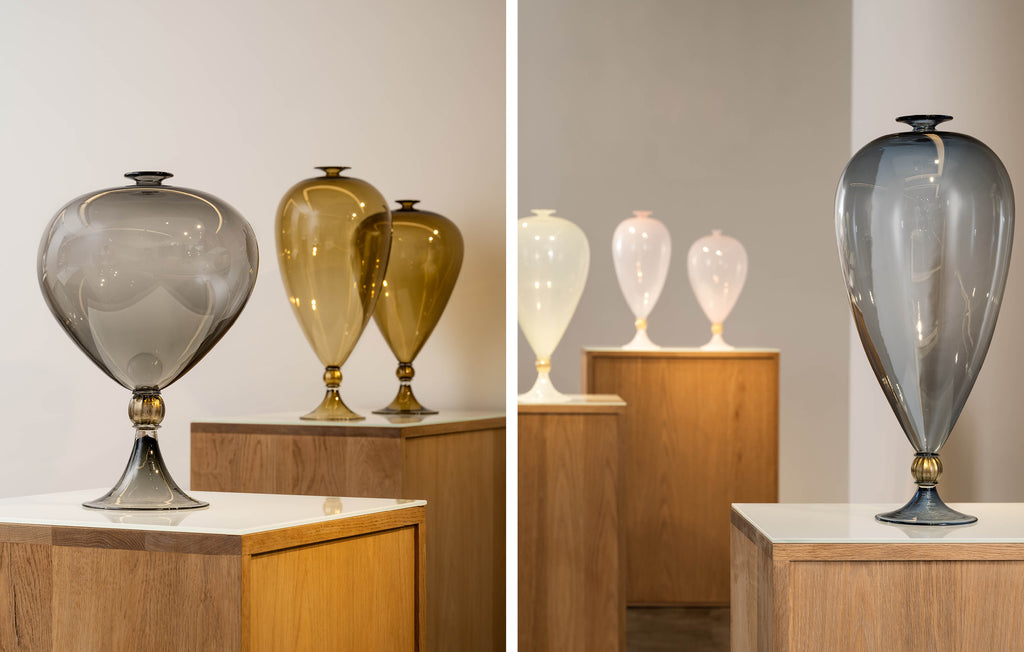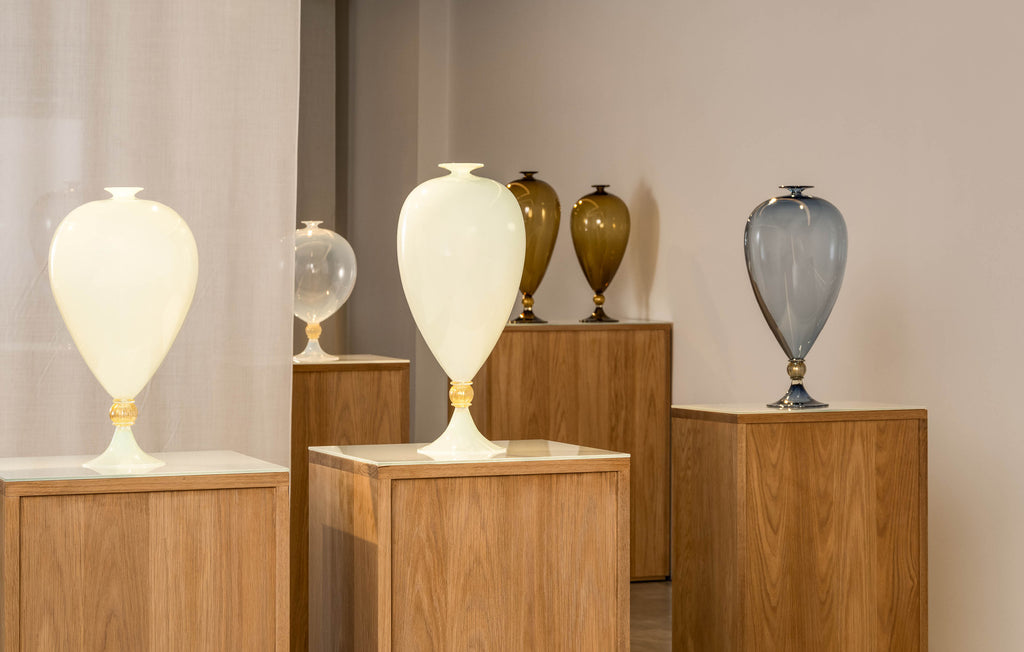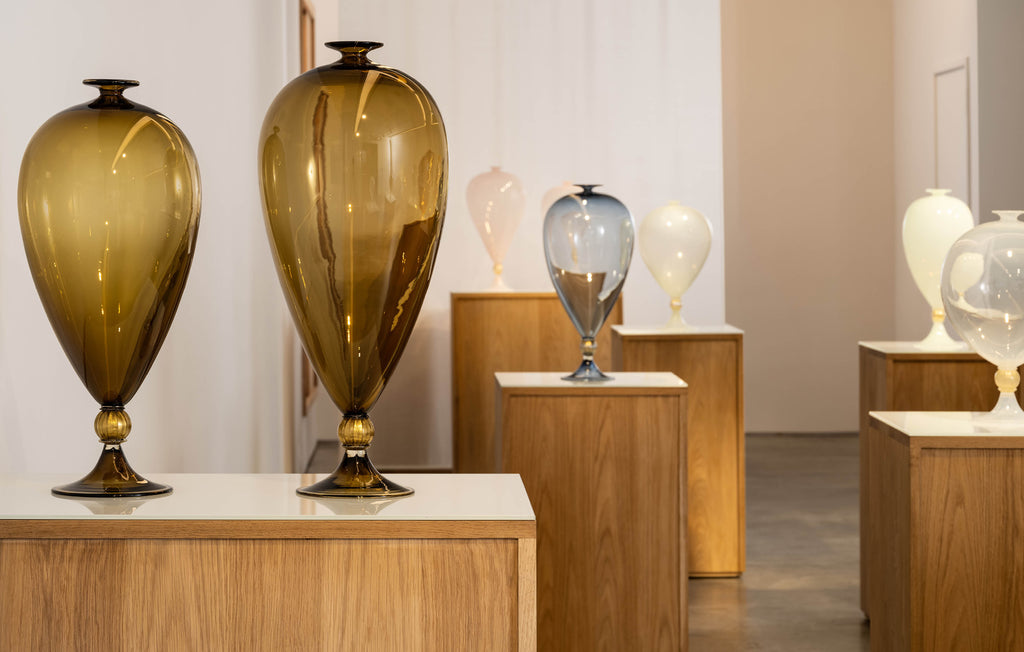 About the Show
Guild Gallery is pleased to present the first solo New York Exhibition of Hyunsung Cho, a Korean artist knwon for his work with glass. Over the past two decades, Cho has mastered the art of glassblowing, creating ethereal vessels that evoke a sense of purity and tranquility.
For this exhibition, Cho will present a series of 32 new Veronese vases—glass vessels first inspired by one depicted in Italian Renaissance artist Paolo Veronese's 16th-century painting, "The Annunciation to the Virgin." Varying in scale, proportion, color, and form, these works combine traditional Murano glassmaking techniques with Korean iconography drawn from Cho's heritage. The works in this exhibition, created over the past year in the artist's glass studio in Seoul, reveal Cho's unique style of glassmaking, which reinterprets the traditional Veronese vase through a Korean lens.
"I WANTED TO INTRODUCE MY STYLE OF MAKING THE VERONESE IN KOREA, AND TO SHOW THE DIVERSITY OF GLASS ART."
- HYUNSUNG CHO
Cho first became enamored with Murano glassmaking when he encountered a Veronese vase at the Corning Museum of Glass in New York and learned of its origin. Continuing to experiment with the Veronese form over the past decade, Cho has developed a signature style that is influenced by shapes seen in traditional Korean Moon Jars. When viewed together, the works in this exhibition highlight the defining qualities of this ancient art form while expanding the possibilities and appreciation of this medium in the 21st century.
INTERVIEW WITH ARTIST HYUNSUNG CHO
By Mackenzie Wagoner
From his hand-built studio in Seoul, Korea, artist Hyunsung Cho continuously explores the boundaries of a mythic 16th century vessel: the Veronese vase. Since first encountering the genre-shifting shape invented by painter Paolo Veronese at the Corning Museum of Glass, Cho has devoted himself to learning how to perfect—and defy its silhouette, introducing new contours to glass iconography by borrowing from traditions in materials as disparate as clay and rubber. The resulting 32 vessels (shown here for the first time) in all of their variations of dramatic scale, proportion, and color offer impossible lightness and ethereal fragility—as though, like bubbles, they may burst and disappear at any moment. From Seoul, Cho called to discuss his fascination with the form, and the sphere of influence that keeps him returning to it year after year.
Mackenzie Wagoner: This show features so many variations on the Veronese vase, something you've been focused on in your work for years. When did you first encounter "The Annunciation," the Paolo
Veronese painting that featured the first Veronese vase?

Hyunsung Cho: I actually first saw a Veronese vase at the Corning
Museum of Glass in New York. I liked the shape, and I researched what it was until I finally knew it was from Veronese's 16th-century painting, which was the first Veronese vase in human history. It only could exist in the painting in that period— glassmakers didn't have the tools to make it. There are many other great works at the Corning Museum, and the Veronese was a small piece in there, but I really fell in love with the shape.

MW: Did you ever go to Italy to study the technique?

HC: No, I was determined to learn it myself. This is my dream of Italy. At the beginning of the 20th century, a glass factory in Murano made the first Veronese vase. Since then, many glass artists have been making and reinterpreting the vase in their own sense. I wanted to introduce my style of making the Veronese in Korea, and to show the diversity of glass art. I've developed my own shape like a balloon. The shoulders are stronger, the size is larger—the original Veronese is small, something like 13 inches tall, mine are as large as 23 inches tall.
MW: And this larger mouth and shoulder has Korean influence.
HC: Yes! At first, I didn't know why I liked the shape, but a few months ago, at the Leeum Museum of Art exhibition featuring work fromthe Joseon Dynasty which is the last dynasty in Korean Peninsula, I saw a vase that influenced my work. It came from the white porcelain and Moon jar. I finally knew where my sense came from.
I think the environments we grow up in have a lot of influences on us without even realizing it.
MW: The stems of your vases are similar to the Murano-style gold-leaf bulbs that we see in your glasses, which are carried at Roman and Williams Guild. In the glasses, the stem features a symbolic seed—the bulb of a plant—and the cup almost blooms from that. Are you bringing these ideologies together?
HC: Yes. That's kind of a same idea as putting the seed onto the vase. The original Veronese also has that same kind of element. It's a merge. I blow it and while it's still hot, roll a layer of 24 karat gold leaf onto the surface of the glass to melt onto the glass. Goldleaf is very thin, so it's good to use on molten glass.
MW: Talk to me about balloons, which you mentioned earlier—where does that come into play? In the palette alone?
HC: I loved balloons when I was young, so I think maybe that's why I like the shape. And balloons are very light. I have a memory of missing a balloon that my dad bought me at the amusement park when I was a kid. I still remember the balloon flying high in the sky without hesitation. My piece is quite heavy—but I want it to appear lighter than its real weight. And I like pale colors. Glass is already gorgeous itself so I don't want to put too much color onto the glass. That's why I use pale, milky white, or smoky colors.
MW: When did you first know you wanted to be a glass artist?
HC: When I was young, I drew everywhere. So naturally I wanted to be an artist from a young age. It was only before college that I visited a glass factory around my hometown, which was my first exposure to molten glass. I had never seen glass melt—until then, I had only thought of glass as a cup or a window. Molten glass is totally different. It made me curious to make something from that material.
MW: Did you go to school to study glass?
HC: I went to art school [at Namseoul University], not knowing that they had just started glass program. I was lucky!
"MY PIECE IS QUITE HEAVY - BUT I WANT IT TO APPEAR LIGHTER THAN ITS REAL WEIGHT. AND I LIKE PALE COLORS. GLASS IS ALREADY GORGEOUS ITSELF SO I DON'T WANT TO PUT TOO MUCH ONTO THE GLASS. IT'S WHY I USE SOMETHING PALE, MILKY WHITE, OR SMOKY."
– HYUNSUNG CHO
MW: You went on to study glass at Kookmin University in Seoul, in the US at Southern Illinois University Carbondale, and as a senior resident artist at Creative Glass Center of America in New Jersey. Did you learn different approaches in each school? In each country?

HC: That's a tricky question. The education systems, especially in glass, is very similar, because many teachers and professors study in America or Europe. In Korean culture, glass is kind of a new art material. We don't have many historical glass objects here. After I got a MFA degree in Southern Illinois University Carbondale, I moved to New Jersey for the Creative Glass Center of America, which is involved in Wheaton Art and Cultural Center. I had met and worked with so many great artists there. That was the best time for thinking and learning many things as an artist. All my working habits and styles were made at that time. I did my first solo goblet show after I had a job there for 4 years, which was a great time to refine myself as an artist. I drew so many different shapes of cups and stems over and over again. It made me stronger than before.

MW: Did you build your own studio in Seoul—with remarkably clean lines I might add—because glass is such a new tradition in Korea?

HC: You can rarely find historic sites of glass making in Korea. The Korean glass art community is really small compared with USA, Japan, or Europe. So, in 2022, I had to design and build the machinery in my studio myself, starting with the glass furnace, which melts the glass into liquid, and wrapping up with the reheating chamber, which keeps the glass warm while I shape it to my preferences. Glass is an extremely sensitive material.