CASEY ZABLOCKI
MODERN RELICS
Installation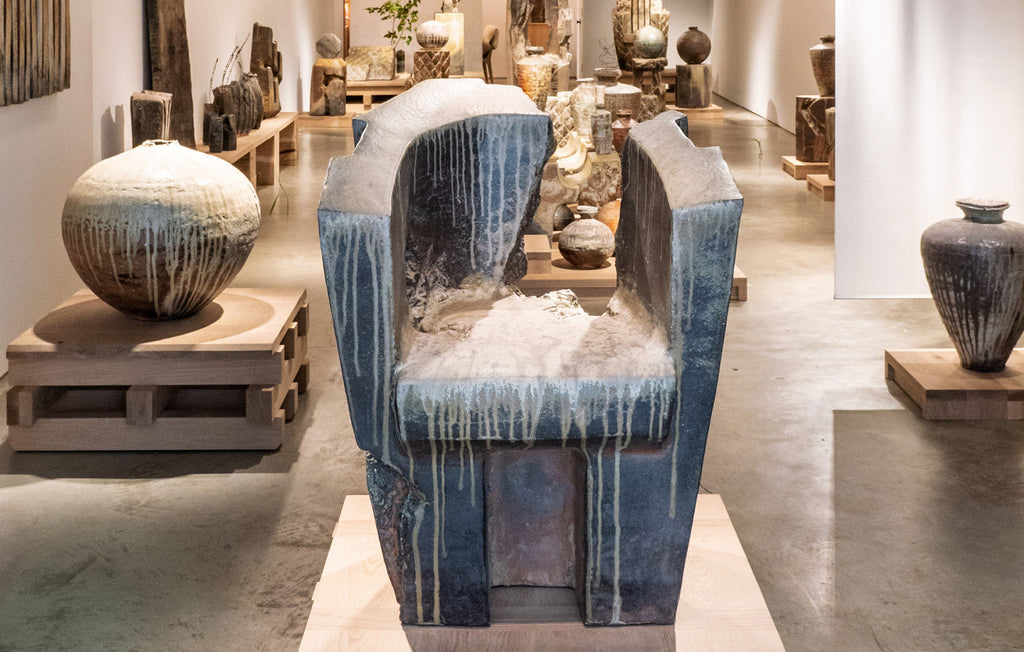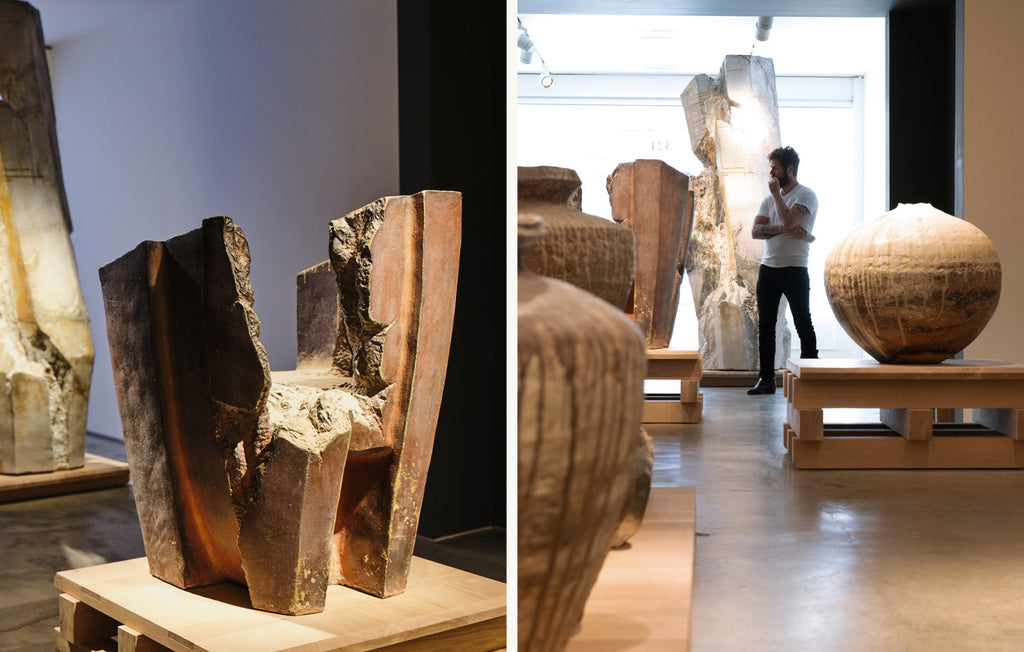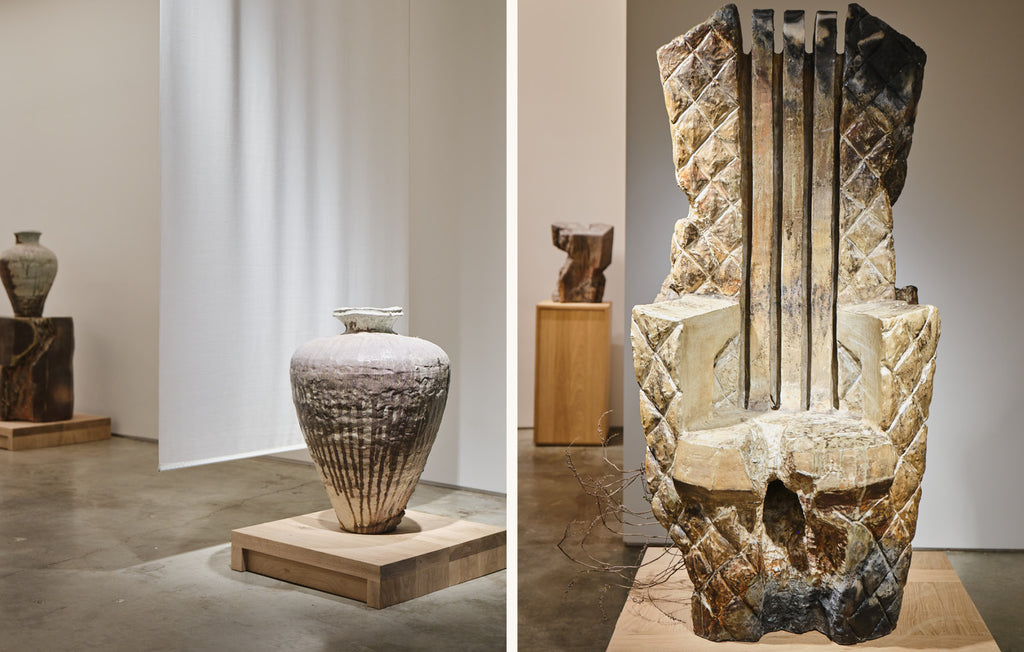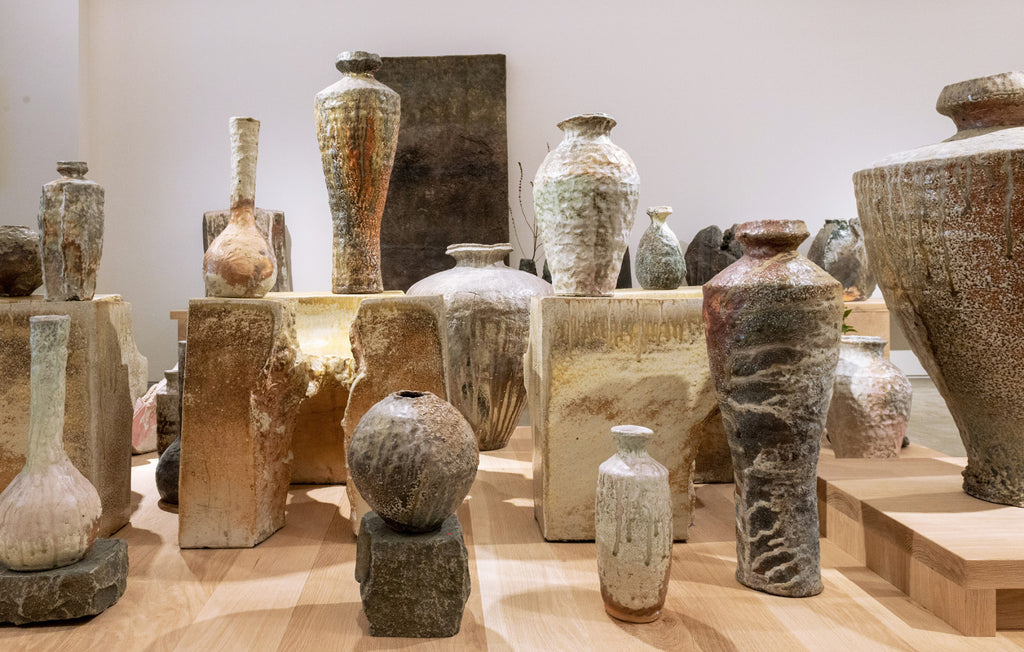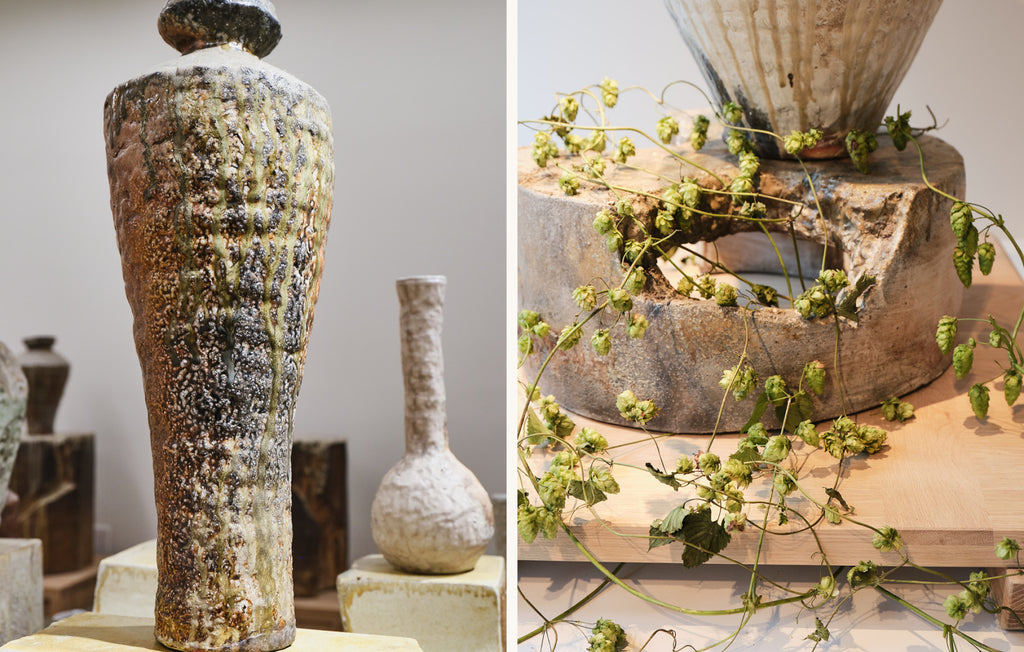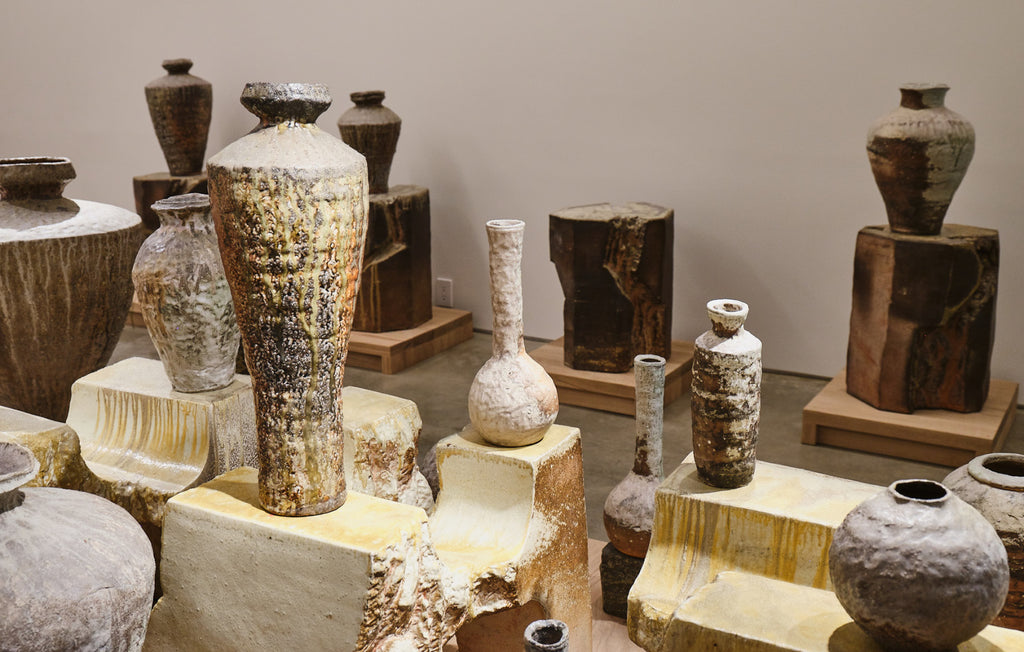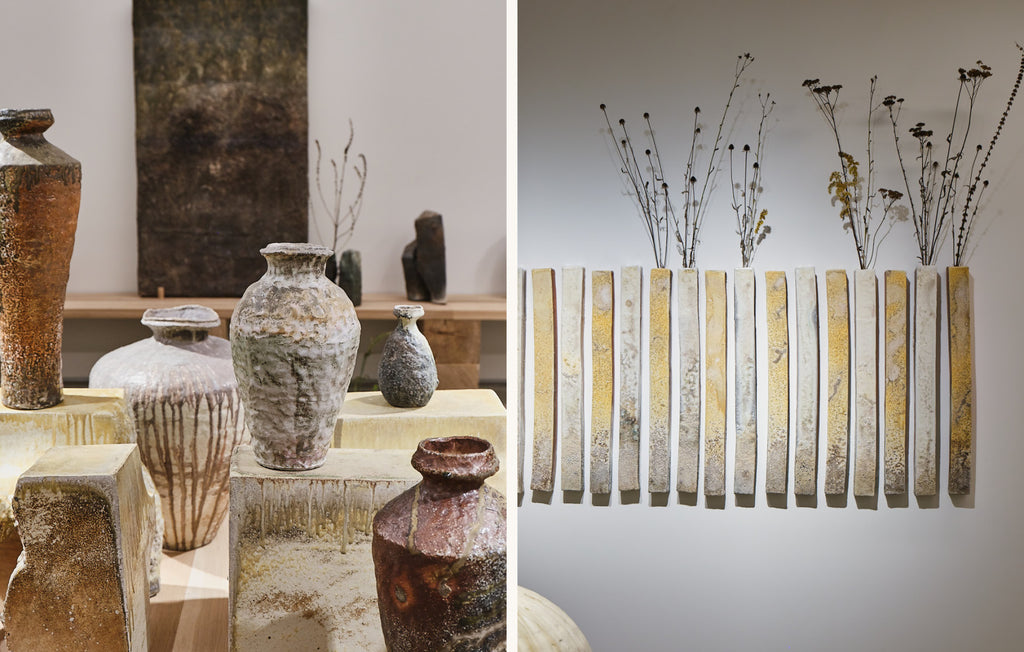 About the Show
Words by Elizabeth St. George
The processes of time and erosion breathe life to Casey Zablocki's work.
Indeed, the artist imagines the craggy and dripping surfaces of his functional sculptures as being excavated from a deep-water shipwreck, the result of the forces of pressure and the raw elements. In actuality, the artist achieves his unique textures with experimental clay and glaze recipes and a wood-fired anagama kiln, an intense, volatile firing process that can sometimes take weeks at a time. Gestural form also emerges from his labor-intensive practice. The artist will often set aside works for months, even years, returning to them to cut away their body and couple the pieces with another work. Like the Brutalists of the midtwentieth century, a sublime beauty materializes from this mastery of duration and deterioration.
Uncertainty is also a factor in Zablocki's work, with the reactivity of his method heightening the dynamic appearance of his wares. His process is physical and kinetic, obsessive and all-encompassing. Zablocki thrives in discomfort. The bodily and emotional toll of each piece are wrought in the details of the shape and coarseness of his sometimes-monumental sculptures, making each piece distinctive and a fragment of the artist himself.
"ALL MY WORK FEEDS OFF ITSELF...THERE'S A LINEAGE THAT CONNECTS THEM. MANY OF THESE PIECES ARE RELICS OF RELICS THEMSELVES. THEY ARE RELICS OF ME AND THE WAY I'VE LIVED MY LIFE, AND THEY'RE EMOTIONAL RELICS OF PEOPLE I'VE KNOWN OVER THE YEARS"
–CASEY ZABLOCKI
INTERVIEW WITH ARTIST CASEY ZABLOCKI
BY CAMERON SNYDER
Guild Gallery is thrilled to announce the exhibition of the ceramic works of their longest-standing artist, Casey Zablocki. Casey was raised by working-class parents in the Upper Peninsula of Michigan. After receiving his BA in ceramics at Finlandia University in Hancock, MI, he led an iterant life fueled by his passion for manipulating matter. From the backwoods of Arkansas, to Yeonpyeong, South Korea, Casey has mined knowledge from the masters of the craft. Over the course of this time, he's come to know—and lose—many people who've left an indelible impression on the person and artist he's become. Now, he's transmuted the lasting emotional effects of those people and experiences in an outpouring of original ceramic structures, each with its own unique energy and personality, for his upcoming show, Modern Relics.
The work is informed by the marriage of growth and decay. Once he builds a structure, once it grows, whether it's a chair or a birdbath, he then proceeds to ravage it, chunk by chunk. But this is methodical destruction, a key element to his artistic process. The transfer of his psychic energy to the clay acts as the elements—wind, water, fire—responsible for decay in the natural world. Much of his work resembles ancient artifacts, relics, objects weathered and beaten by the hands of time.
We're in his minimalist studio in Missoula, MT, surrounded by his work, all in various stages of completion. He sits in a brutalist-inspired throne sipping coffee from a chawan tea bowl.
Casey Zablocki: Just think how long it would take for a stone structure to decay like this chair. It would have to sit on a hillside for a thousand years. It would take forever. I'm just speeding up the process because I like the beauty of deteriorated things. I was the kid who went and got dirt on his new shoes right away because I don't like new things.

But erasure comes with risks. With each chunk he removes, he risks ruining the entire structure.

Cameron Snyder: Do you ever decide to put a piece back once you cut it off?

CZ: Oh, yeah. It happens all of the time. It's like chess—sometimes you make a good move, sometimes you make a bad move. Sometimes it's a bad move and it costs me a day's worth of work. But I won't know unless I commit to making that move. You just don't know unless you try. Risk it for the biscuit. That's what people say, right?

CS: I think that's how it goes. Your upcoming show marks the first time people will have the opportunity to interact with a full, cohesive series of your work. What do you hope these pieces will communicate to those who view your work at Guild?

CZ: All my work feeds off itself. One piece leads to the creation of another. That sculpture there came from that piece over there. There's a lineage that connects them. Many of these pieces are relics of relics themselves. They are relics of me and the way I've lived my life, and they're emotional relics of people I've known over the years. All these works sitting together in one gallery should convey the energy I've put into them. In a sense, this is a dialogue I'm starting with the people who buy my work. This is my language. I've grown to the point where I'm ready to let my work communicate something to the world.

CS: Your work is growing literally and figuratively.

CZ: You reach a certain point where you go back to what you started with. It's a constant back and forth. We reference the past, our relics, to inform the future, our growth. That makes us who we are. Some of it is definitely growing in size, but at the same time, I'm revisiting some of the first pieces I ever sent to Roman & Williams, like when we first started working together, six or seven years ago. Like this chair here.

The work in question resembles a chair with the texture of tufted leather if said chair had been recovered from the wreckage of a bombed-out building, its edges blasted off.

CZ: This softens my work. Much of my work is hard-lined, so this will create a nice contrast among the pieces.

It's impossible not to address the elephant in the room. An eight-foot tall obelisk-like sculpture stands a few feet away from us, basically begging to be talked about. This is what he's spent the past month-and-a-half working on.

CS: Is it rare for ceramicists to make sculptures this large?

CZ: Sculptures this complex? Yes. But size shouldn't have anything to do with it, because if I can't transfer energy into something this big, then I have no business making work this big. It's not a flex. I'm not making something big just to make something big. Anyone can make a cylinder that's eight feet tall, but will it have energy?

He stands back and cocks his head, examining the monolith.

CZ: See there? The sculpture looks like it's leaning forward, but it's actually leaning back. The illusion that it's coming toward you. You have to move around the sculpture to get the full feel.
This is how Casey's work plays tricks on perceptual experience. The work anthropomorphizes on the peripheries of your visual field. A twisted chair takes on the shape of a crouching human. Contours of a massive throne bend and warp like a giant's hand half-open. The chiaroscuro of a small, knotty sculpture seems to breathe. In a sense, the work demands the suspension of disbelief. Allow yourself to be tricked by the trompe-l'oeil, and a that's when the relationship begins.

CZ: The longer you live with my work, the more you'll begin to understand it. There've been people who've had my work in their house for years, and they'll send me an email and say, "We just rotated your sculpture and it turns out we had it the wrong way the whole time—this is actually the best side." It was sitting for five years one way and they just turned it a little bit and they're like, "Oh, this is the good side." Maybe it takes them 30 years before they actually get to know the work.

Casey's work undergoes a vigorous and volatile wood-firing process in an old anagama kiln fifteen miles outside of town. The ensuing chemical process—that which gives his work much of its signature patina and pock-mark-like texture—can result in major structural damage.

CS: Doesn't it make you nervous to know that all of the time and effort you put into your work could be wasted?

CZ: If it cracks, it gives me an opportunity to do something else. When a piece comes out of the kiln, it's not necessarily done. Lee Hun-chung taught me that. Traditional Korean ceramicists were smashing big pots and putting them together with Bondo. Ceramics were finally being treated as art.
CS: What inspired you to start making ceramic furniture?

CZ: With furniture, it was a way for me to give reference to a functional object and draw people into my work with something recognizable. To make a chair that's functional, it has to be a certain size. The seat has to be twenty-one inches or something like that. Not too many people want to sit in a twelve-inch chair. The standard dimensions of furniture required that I made work on a larger scale. This became the natural growth of my work—everything has led to this.

CS: So, you couldn't have made this giant sculpture ten years ago.

CZ: No, there's no way. I couldn't have done it two years ago. This is a combination of everything that's happened to me in my life in order for me to get to this spot. I had to grow. You have to look inward, ask yourself, 'Why are you doing this?' I hope people can get as much enjoyment from a tea bowl as they can from a large sculpture. They have different energies, sure, but they should each be just as powerful.

CS: You've cited influences ranging from brutalist architecture and old Soviet bus stops, to the industrial backdrop of your youth. How does the Upper Peninsula continue to inspire your work?

CZ: I grew up in an industrial mining area. I was surrounded by abandoned mines, broken down concrete structures. It was everywhere. You're going to absorb that sort of thing, consciously or not. I could explore freely up there and I think that eventually led to my desire for creative freedom.

We reach a certain point in our lives when growth and decay begin to operate simultaneously—our bodies decay physically while our minds continue to grow. As Casey nears forty, he contemplates this often. He has an innate understanding of the relationship between the two, how growth is dependent on decay if decay implies ageing and learning. In his life as well as in his work, Casey gladly welcomes the corollaries of time.

CZ: I think my work is just beginning. It's new to me, right now. It couldn't have come any sooner. It had to happen now. It is happening now. I'm so excited to have the opportunity to present my work at the show and allow others to engage with the relics of the person I was and the artist I've grown to be.