RICK HINTZE
Rick Hintze was born in 1944 in Peoria, Illinois. He received a B.A. in art from Knox College, Galesburg, Illinois, an M.A. in Art History from the University of Iowa, Iowa City, Iowa, and an M.F.A. in Ceramics from the University of Notre Dame, South Bend, Indiana. After teaching ceramics and sculpture at Kirkwood Community College in Cedar Rapids, Iowa, during the 1990s, he moved to Wisconsin to establish his studio in Johnson Creek and opened his gallery in the fall of 2002. Over the years he has received numerous awards, including a National Endowment for the Arts Individual Artist Fellowship, an Iowa Arts Council Artist Project Grant, and an Award of Excellence from the American Craft Council. His work is in the collections of the Racine Art Museum, the Cedar Rapids Museum of Art, the Topeka and Shawnee County Public Library, Southeastern Louisiana University, Ripon College, Kirkwood Community College, and various regional and national private collections.
Hintze makes functional pots, coiled vessels and some sculptural pieces. With the wheel work he has recently focused on using wood ash glazes and clay slips, with a particular interest in the irregulatities of texture, depth, and color; the way in which they are dull or glassy, thin or pooled, and in how they obscure or reveal the clay underneath. During the throwing process, Hintze pays particular attention to the rhythms and surface textures left in the clay, aware of how they will react to the glaze, and hopes to evoke some of the movement of the wheel and the plasticity of the material in the fired piece.
Hintze also enjoys the process of making forms with coils, and over the last eight years has been making some medium-sized vessels that are inspired largely by African pottery and to a lesser extent neolithic Chinese pots. Many of these are stained with iron oxide, and coated with a clay and wood ash slip.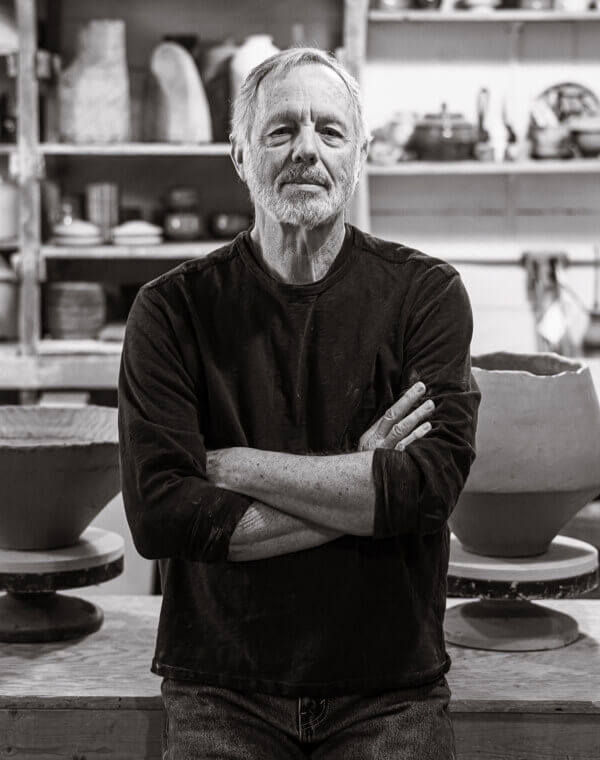 Download artist materials
Process