KENTA ANZAI
Kenta Anzai hails from an impressive lineage having learned from Taizo Kuroda, who was an apprentice to Tatsuzo Shimaoka (National Treasure). Shimaoka is known for distilling 5,000 years of pottery with his work and was the pupil of Shoji Hamada (National Treasure). Shoji Hamada, along with Bernard Leach and Soetsu Yanagi, were important figures in the introduction of Japanese aesthetic culture to the world of modern craftsmanship in the 20th century. Anzai honors this lineage of ceramic tradition and at the same time creates an entirely new aesthetic.

Anzai's bold ceramics create a moving experience that comes from a place of profound truth of character, and is rooted in the belief of the Mingei philosophy that craft "is not to be learned by intellect, but with the body." His work emphasizes the connection between the quality of an object and the spirit with which it is made, where beauty is found in utility.
Anzai developed an innovative process for his black surfaces using earthenware and urushi, which was historically used during the Jomon period to waterproof and strengthen pottery before the advent of glaze. Applying several layers and polishing each, one piece can take one to two months to complete. Anzai's white surfaces undergo a similar process using porcelain and white slip. Representing the current renaissance of Japanese artisanal craft, Anzai bridges an ancient and modern context in his work.
As a rising artist, Anzai is well-known in Asia and Europe. In fall 2019, Roman and Williams GUILD proudly hosted Anzai'a first solo exhibition in the United States with over 50 black and white pieces, presenting the most extensive collection of his work in one place.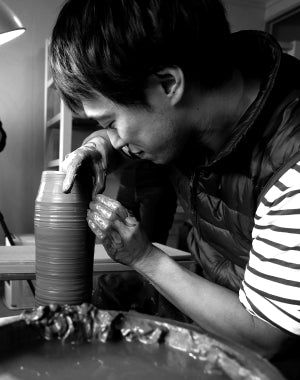 Download artist materials
Process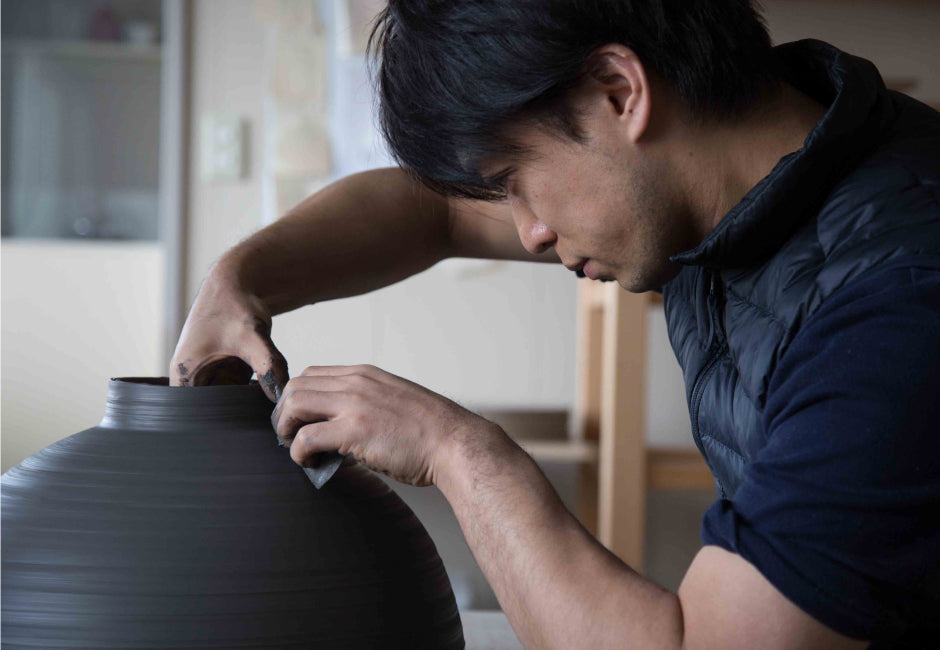 ANZAI APPLIES A FINE LAYER OF BLACK CLAY INFUSED WITH URUSHI–A NATURAL JAPANESE LACQUER DERIVED FROM THE SAP OF THE JAPANESE "VARNISH" TREE (RHUS VERNACIFERA), GIVING EACH PIECE A UNIQUELY DETAILED SURFACE PATTERN TO CONTRAST WITH THE SIMPLE FORMS.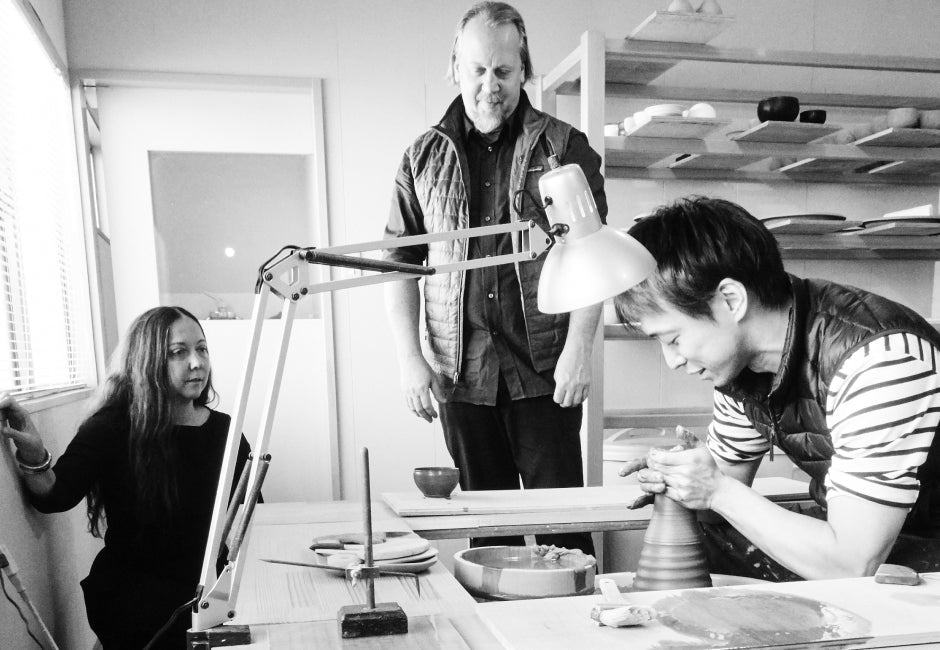 FOUNDERS ROBIN STANDEFER AND STEPHEN ALESCH VISITING ANZAI IN HIS STUDIO IN FUKUSHIMA, JAPAN.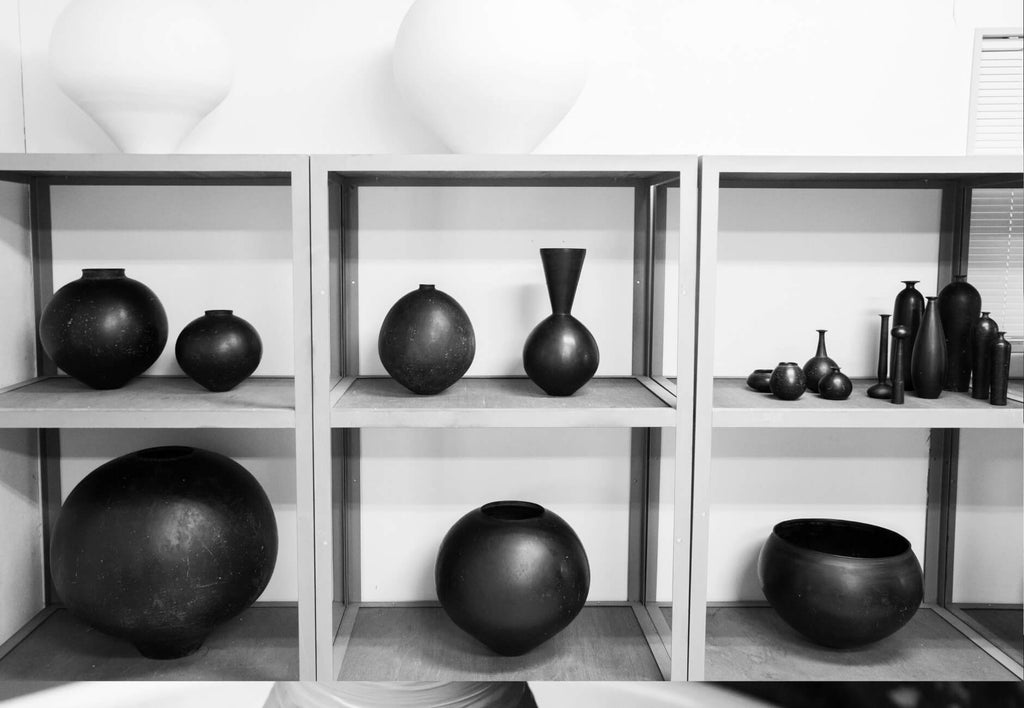 KENTA'S WORK IS THROWN IN CLAY. HIS GLAZING TECHNIGQUE GIVES EACH PIECE A UNIQUELY DETAILED SURFACE PATTERN TO CONTRAST WITH THE SIMPLE FORMS.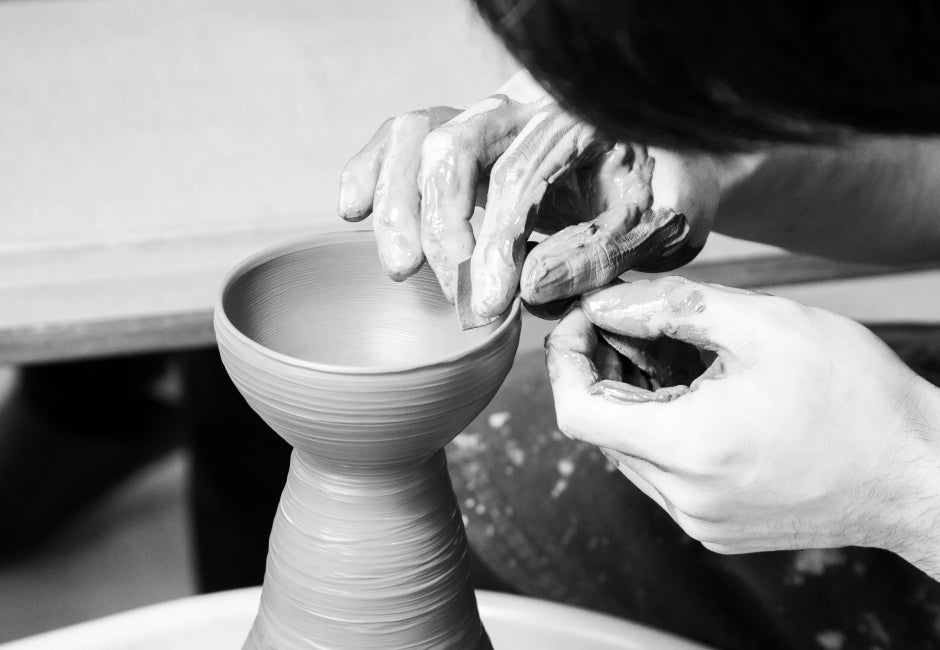 ANZAI USING A PIECE OF LEATHER TO SMOOTHE THE LIP OF A PIECE.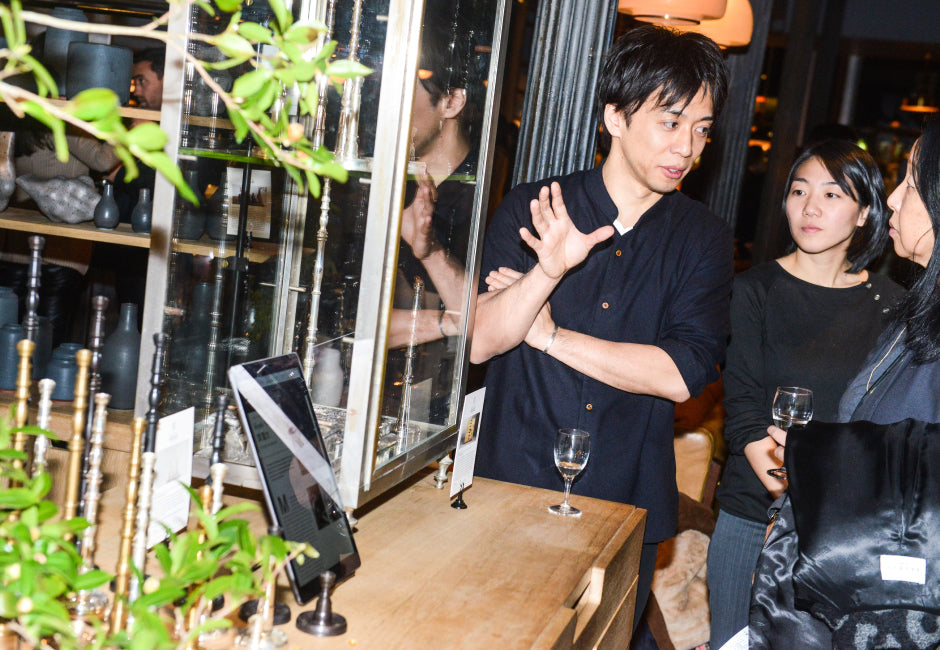 ANZAI AT THE OPENING OF HIS FIRST US EXHIBIT AT RW GUILD IN 2019.